Dave's ministry took him to Southeast Montana from 1994 to 1999, where he served as the pastor for American Lutheran in Baker, Peace Lutheran in Plevna, and also helped to establish St Elizabeth's Lutheran Church in Ekalaka. In 2012, St Elizabeth's was finally able, after decades in temporary worship spaces, to build their own church. When Dave heard about their project, he volunteered to make the chancel furnishings for them.
Agnus Dei Lutheran

Gig Harbor, WA
Dave and Karla were charter members of Agnus Dei Lutheran Church in Gig Harbor in 1979. In 1988, the year Dave graduated from seminary, Agnus Dei completed construction of their first building. Dave contributed these chancel furnishings, designed in conversation with the architect and congregation.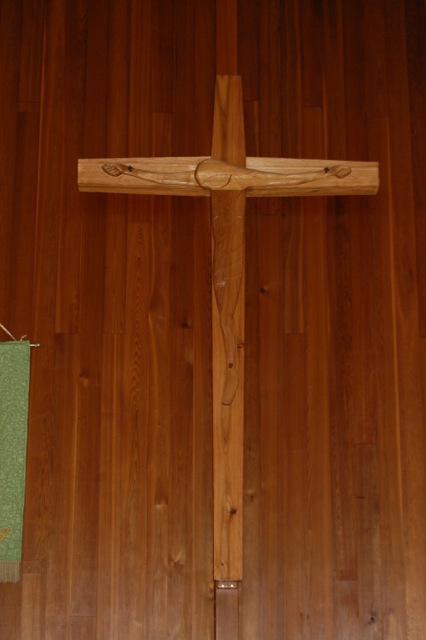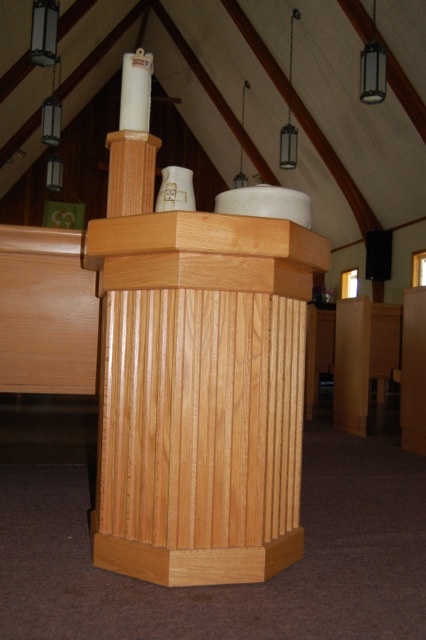 Our Savior's Lutheran
Thompson Falls, MT
On November 2, 1989, a young girl by the name of Alison was killed in an automobile accident. The following Easter Our Savior's Lutheran in Thompson Falls dedicated this cross in her memory. Crafted out of locally milled cedar, the cross features the corpus, the image of our crucified Lord Jesus. The body of Christ is removable, allowing for an "empty cross" for Easter celebrations. Religious works continue to be one of Dave's great passions. To create a piece that helps grieving parents remember that Christ died for them, and for their daughter, is profoundly rewarding.
This baptismal font was commissioned as a memorial for Ted, a member of Our Savior's Lutheran in Thompson Falls, MT. Integrated into its design is the paschal candle. This combination of what would normally two separate pieces allowed for a very workable design for a very small chancel area.